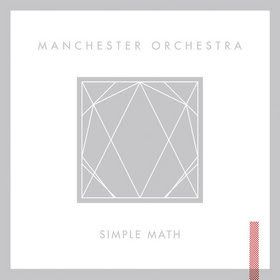 Manchester Orchestra is a band that has grown very close to me over the past five years. Since their 2006 debut I'm Like A Virgin Losing A Child, I've become completely encapsulated by every step the band has took. In 2009 they released Mean Everything to Nothing which not only cemented front man Andy Hull as one of my favorite songwriters of all-time, it also shattered every standard set before them by the lofty expectations of their debut in ferocious fashion. If there was any album that I was anticipating more than any other this year, it would have to be MO's fourth full-length, Simple Math. No other group has come close to taking my ears (and heart) captive with such ease as this band and I'm happy to report that two years since they graciously became the heart of the scene, they've done it…Again.
In Simple Math's 10 song, forty-five minute makeup, Manchester Orchestra rip through the most earnestly revealing and thematically fulfilling album they've put out during their still green career. Composed as a concept album documenting frontman Andy Hull's near divorce with his wife, it's hard to think of another time when Hull has made himself so deliberately vulnerable. The album's confessional opener finds Hull lamenting "You're probably too busy with your work. Or am I just excusing you for leaving me alone?" This theme of isolation is plays heavily throughout the album.
After the soft-spoken intro, the record proceeds to kick into overdrive, diving head first into a pool of grungy and dirty southern inspired rock reminiscent of much of 2009′s METN. "Mighty" boasts muted guitar riffs that swagger in place behind Hull's biting melody while "Pensacola" has the albums loudest and most immediate moments, including a joyous bridge of drunken gang vocals, juxtaposed to Hull's lyricism that laments the plague of disconnect affecting so many touring musicians and their loved ones whilst on the road. It's easy to hear the fatigue in Hull's voice when he admits "I'm tired of talking to a wall, when I could talk to someone else. I just got seven days without a word, and you're with someone somewhere else."
After the scathing first section of the record, Manchester Orchestra begin to explore more thematically brilliant composition. If there is one thing that differentiates Simple Math from it's predecessors, it's found in the fleshed out maturity displayed on songs like "Pale Black Eye" and "Virgin" which both showcase moments unheard in previous MO material. Whether it be the swelling string section that puts a forceful close to "Pale Black Eye" or the eerie addition of children singing the chorus of "Virgin", Simple Math's arsenal is laden with epic atmosphere and unabashed depth.
"Virgin" marks a sort of bookmark in the album, one of transitioning between the hulking hooks of it's first half into a more reserved and premeditated form of attack. "Simple Math", the albums first single is a ballad bordering on existential crisis amongst swirling strings and a feral finale which gives way to "Leave It Alone". The track opens with Hull's slightly distorted and dissonant vocals before crawling to a defeated and exhausted conclusion. "So take me or don't. I've built up this kingdom you'd hopefully loathe. If we end up alone. A plague on my head and a curse in my home." It's the calculated self-awareness that Hull displays, which makes it crystal clear just how painful and exhausting Simple Math's subject matter really is.
The record then wearily heads into the final stretch with "Apprehension", a cryptic and masterfully written track which gives way to Simple Math's end-piece "Leaky Breaks". In the band's previous releases, the album's final spot has been reserved for the records emotive climax. (See "Colly Strings" and "The River") "Leaky Breaks" is instead, a breezy and subdued closer which feels like the band taking a collective deep breath. Jonathan Corley leads the track with a floating bass line, walking on top of whimsical guitar. The song sounds vaguely like a nod to Modest Mouse circa 2004 if Isaac Brock turned in his lisp for a southern drawl. Ending on a tone of apprehensive finality, Hull leads the track home cooing farewell to the ground tread over the draining last fourty-five minutes.
With Simple Math, Manchester Orchestra have proven that they are no longer a band playing in the shadow of the music that influenced them, but a band that has exceeded the shadow of their influence. The dubiety of time will quiet any comparisons between Simple Math and it's predecessors, and no comparison is really necessary. Simple Math stands up in an already flawless discography and marks another chapter in their bright, bright future. With such calm and confident poise, this band has finally stepped into the shoes they were always meant to wear and are poised now to sit at the top as the scenes' much needed savior.
Virgin by Manchester Orchestra
Simple Math is out May 10th via Favorite Gentlemen
Purchase // Simple Math
Related posts: (Hopefully! This is auto-generated)